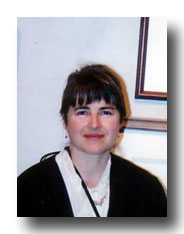 Current

See Portraits and Shows below.

Ongoing :
Watercolor classes
Tuesdays 1 PM to 4 PM
(Call 425-330-3224 for more information)

EDUCATION

1976 - 2003

Married and raised six children.
Very educational! Great models! Little time!
1974 - 1976

Unanimously accepted to the University of Washington's Graphic Arts Program,
Attended until marriage.
1971-1974

Attended Cornish School of Art

PUBLICATIONS ILLUSTRATED


Nine books with Parenting Press

Seventeen books with Outside the Box
(an imprint of Sage Publications)

Two books with Zaner-Bloser Publishing

Three books with Winepress Publishing


MEMBERSHIPS


Portrait Society of America

Women Painters of Washington

Northwest Watercolor Society
(Signature member)



2011- 2012
2010

Immovable Meets Irresistible
Wenatchee Valley Museum
The Art Faculty Show

Northlight Gallery Miniature Show
Edmonds, WA

Autumn's Gallery Solo Show
Edmonds, WA

Portrait of Aaron and Beth Fishburn
2009

Commissioned Portrait of Dr. John Stamm
Retiring president of Trinity College
2008

Portrait of Cam and Shannon Doherty

Commissioned Poster for Quilting Organization
2007

Commissioned Poster for Quilter's group

Portrait of Anne and Hanna Bennett
2006

Thumper's Thicket
Arts Of Snohomish Gallery
Snohomish, WA
2005

Portrait of Whitney Barcus

Portrait of Joe and Jayne Cantello
2004

Jeoffrey On The Golden Street
In memorandum.
On The Dunes
Arts Of Snohomish Gallery
Snohomish, WA

Beth At Seventeen
Olympic College Show

Look At The Birds 2
Olympic College Show
2002

Doctor Poole's Children
Commission
Snohomish, WA
2001

Doris Keller
Commissioned in memorandum
Smokey Point, WA
2000

Jayne In The Grass
Northwest Watercolor Society
Waterworks Juried Show
Issaquah, WA
1999

Black Blanket
Women Painters of Washington Show
Kuwait
1998

Tamara and Bailey
Commissioned Horse portrait
Snohomish, WA
1997

Requiem For A Mountaineer
Commission in memory of Scott Bennett
Snohomish, WA
1996

Celtic Madonna
Snohomish County Arts Council Juried Show
Everett, WA
1995

Jon And Ellen
Northwest Watercolor Society,
Howard Manville Gallery
Kirkland, WA
Daniel Smith Award
1994

Look At The Birds 1
Northwest Watercolor Society,
Howard Manville Gallery
Kirkland, WA
1993

Sisters In Winter
Northwest Watercolor Society,
Howard Manville Gallery
Kirkland, WA
1992

Black Madonna
Northwest Watercolor Society,
Howard Manville Gallery
Kirkland, WA
1991

Baby Rose and I
Self Portrait
1990

Peter And Sherrie
Sky Valley Art Spring Show
Monroe, WA
Hon. Mention
1985

Who Needs A Teddy?
Peter Kirk Gallery Kirkland, WA